Openwall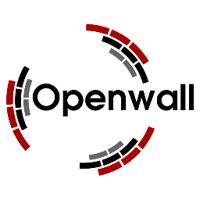 License: New and Simplified BSD licenses
Web Page: http://openwall.info/wiki/ideas
Mailing List: http://www.openwall.com/lists/john-dev/
Openwall's primary focus is in development of information security related free software, information security research, publications, and community activities aimed at making existing free software safer to use.
One of our software projects is Openwall GNU/*/Linux (or simply Owl), a security-hardened Linux distro for servers.
Another project is John the Ripper, a popular Open Source and cross-platform password cracker (password security auditing tool). Its homepage has exceeded 20 million hits. Several JtR tasks are being considered for GSoC.
On top of this, specifically in GSoC 2015 we act as umbrella organization for radare reverse-engineering framework. Here are their ideas.
We also have many smaller and/or new project ideas, and we welcome your own creative and relevant ideas.
Please check out our ideas page for the rationale behind these projects and (a bit) more detail, then approach us with questions if interested.
Projects